My favourite player Sachin Tendulkar essay 900 words plus given here and after reading this essay you will be able to understand your favourite player Sachin Tendulkar bit more closer.
My favourite player Sachin Tendulkar essay
Essay on Sachin Tendulkar – In India cricket is counted in religion because this sport runs in veins of every Indian. Till now it is believed that cricket game was invented in England but some people and even cricket experts have their different opinion and they said cricket is the game first invented in India. It is also heard many times that British and other country people converted the gilli danda in the modern form of cricket.
People were always crazy about cricket game but when the great batsman Sachin Tendulkar started playing, the fever of cricket stood on the heads of the people of not only India but from the entire world and not down yet.
Sachin Tendulkar is my favourite player and he has won the hearts of people not only with his batting performance but also due to his down to the earth nature and high sportsmanship. Sachin Tendulkar made his place in Indian cricket team and he gives the credit to his guru Ramakant Achrekar.
In the beginning Sachin Tendulkar want to play football and he was a huge fan of John McEnroe often keeps his hairstyle like McEnroe. Ajit Tendulkar Rajasthan elder brother of Sachin Tendulkar and he is the one who who directed Sachin Tendulkar towards cricket and he actually prepared cricket path for his brother thus cricket path credit goes to Ajit Tendulkar. In several interviews Sachin Tendulkar and Ajit Tendulkar has accepted that Ajit is the person who put all the efforts to draw a platform through which Sachin Tendulkar can reach the great coach Ramakant Achrekar.
Ajit was the first person who recognise the talent of cricket in Sachin Tendulkar and send his brother under training of great coach Ramakant Achrekar so that he can develop his cricket skills.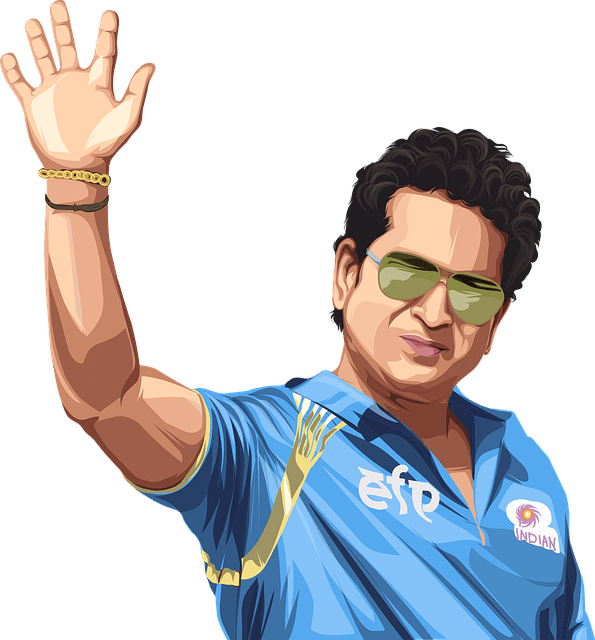 Image credit Creative Hatti from pixabay
Essay on my favourite player – Sachin Tendulkar's daddy was one of the biggest fan of musician Sachin Dev Burman therefore he put his son's name Sachin. Even Sachin Tendulkar likes songs very much, he likes listening to old songs also and his favourite singer was the great Lata Mangeshkar. When it comes to food everyone knows Sachin Tendulkar is a food lover and he also likes to cook the food by his own specially roasted and fries. Sachin Tendulkar likes veg and non veg both and when he goes to Australia tour he likes to eat crabs full of protein. Fish and crabs are favourite sea food of Sachin Tendulkar.
Anjali is the name of Sachin Tendulkar's wife and she is a doctor by profession. Sachin and Anjali met first time in the airport where they both were attracted towards each other and Sachin fell in love with Anjali. Later Sachin approached Anjali Tendulkar and after sometime both got married happily and till now they are an iconic couple in sports history. When Sachin Tendulkar married Anjali who was 2 year older than him at the time his cricket career was flying high and after marriage his career went on moon.
According to Sachin Anjali is one of the most caring person in his life and it is almost a dream come true to have a partner like Anjali. Sachin and Anjali are parents of two kids Arjun and Sara. In 2022 IPL Arjun Tendulkar got selected in Mumbai IPL team and Sara Tendulkar is very active in social media platform. According to sources Sara might act in Bollywood in future. Sara Tendulkar name is often added with cricketer Shubman Gill but both of them have not accepted their relationship yet.
My favourite sports 10 lines – Sir Don Bradman is known as a best batsman in the world and he has a batting average of 99-100. The great Don Bradman praised Sachin Tendulkar's batting by saying that he sees himself in Sachin's batting. The universe's best batsman praise for any player is a big thing. Sachin Tendulkar loves Ferrari vehicle and once in a time a Ferrari champion has gifted Ferrari to Sachin Tendulkar. Sachin Tendulkar is found of Wimbledon game and Roger Federer is the favourite player of Sachin Tendulkar. We have seen Sachin Tendulkar various times watching Wimbledon. Lawn tennis player Rodger Federer and Sachin Tendulkar are good friends and Roger Federer often invite Sachin Tendulkar to watch his matches live from the Wimbledon ground.
10 lines on Sachin Tendulkar – Sachin Tendulkar special batsman, he is gifted, he is natural and scored tons of runs with heavy bat. In the era of 1995 Sachin Tendulkar's heavy bats attracts peoples attention and often becomes a discussion point among commentators. Sachin Tendulkar is the only batsman who have scored 100 centuries in international cricket in which 49 centuries are in ODI's and 51 centuries made by him in test matches. In today's modern cricket apart from Virat Kohli there is no cricket player that can break Sachin Tendulkar's record or looks near to break the record of Master Blaster.
Short note on Sachin Tendulkar – Sachin Tendulkar setting on the heights of unbelievable records. It is possible Sachin's 100 centuries record may break some day but it is very difficult to break his all records. Henry Olanga was the bowler from Zimbabwe who turned into commentator after Sachin Tendulkar's aggressive scoring on his bowling. No body can ever forget the storm match of Sachin Tendulkar nor I.
It was a match between Australia and India in which Sachin Tendulkar blasted 2 consecutive centuries against Australia in both semifinals and finals. Semi final was the match affected by Desert Storm but that storm was not cable enough to stop the extraordinary hitting of Sachin Tendulkar. Sachin Tendulkar was playing like a musician, he was singing with his bat and my favourite commentator Geoffrey Boycott's melodious voice was adding a flavour in the ground.
Who is Sachin Tendulkar?
Sachin Tendulkar is a great Indian cricket player who have made the world record of 100 international centuries.
How many centuries were scored by Sachin Tendulkar in one day matches?
Sachin has scored 49 centuries in international odi's.
How many test centuries Sachin has scored?
51 test centuries are scored by master blaster Sachin Tendulkar.
What is the name of Sachin Tendulkar's wife?
Anjali Tendulkar is Sachin Tendulkar's wife name.
How many years Sachin Tendulkar has played international cricket?
Sachin Tendulkar played international cricket for 24 long years.