If you are a passionate player who want to make his career in cricket just completed your schooling and thinking how to become cricketer after 12th class? Don't worry today we will guide you the exact steps which you have to follow step-by-step. Moreover after reading today's article on cricket career you will be able to understand what to do to become a cricketer after 12th class.
how to become a cricketer after 10th 12th
Education
In today's cricket era young generation is choosing a career in cricket after 12th standard. Boy or a girl anyone can become a cricketer and there is no specific guideline for education in cricket. You don't need any sports education to become a cricketer it doesn't matter if you are a student of commerce arts or science stream. The only thing matters is how talented you are to survive in the field of cricket which has extremely huge competition.
Youngsters often dream to play cricket for Indian team but it's not an easy task to play cricket for team India unless until you have developed your reading skills and mental strength to beat the competition in cricket.
You must be aware of cricket rules to comfortably run your cricket journey and to get awared about cricket rules and cricket updates you should regularly visit daddy100 which is just not a website it is a passion for me to show the path to some passionate people who want to become a cricketer at any age.
Join best cricket academy
You should join a cricket academy to improve your cricketing skills. Cricket coach helps you to develop your cricketing skills like batting, bowling and fielding. However, joining cricket academy demands monthly fees and extra time. If you are capable of fulfilling the same then you must join a cricket academy near your house because one day your whole effort and money might come back in a superior way. Remember, it is not compulsory to join cricket academy to give any cricket trials. If you are able to practice by your own at your home then you can give district cricket trials without joining any cricket academy.
Target your aim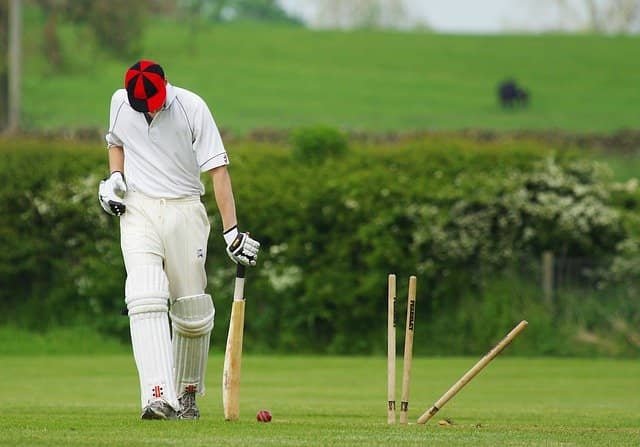 If you are choosing cricket as a career after 12th then you must set a goal for next upcoming years. Take your dream as a mission and make a timetable for complete calendar year do not allow your practice and reading sessions to clash with each other. You must do daily practice on local pitches or whatever cricket pitch you are getting. Hope you are enjoying reading this cricket article, keep reading it.
Don't always complaint about cricket pitch and equipments these are the symptoms of a person who is not really passionate about cricket but only says that cricket is a passion for him. This kind of person usually wastes there time by talking too much on the cricket field they just dont only waste their own time they also wastes the time of other people. So be aware of these kind of people and you should keep some distance with these people if you are really serious about your cricketing career.
Develop under pressure playing ability
To develop under pressure playing ability the first and basic thing is that you must accept your mistake because you are a human being. Once you accept your mistake you can improve your mistake and try to not repeat the same in the next match or net practice session.
You should have any one cricket skill
Batting
Bowling
Batting wicket keeper
Batting – just hitting the ball outside the boundary line is not a batting skill. because a tailender batsman for a complete bowler can also hate a for outside the boundary line. instead you must have a good defensive technique, strike rotating skill, building your innings, playing the shots into the gap without taking much risk and of course six hitting ability can add 5 stars after having the good batting technique.
Bowling – When a bowler is able to deliver 4 – 5 balls at the targeted spot it means the bowler is inform. To become a successful bowler you must bol the delivery where are you want to bowl, if you I want to bowl a yorker and able to deliver for this delivery it simply means in need lot mor practice. One can become a good bowler once he or she improves their bowling technique like your yorker ball bouncer ball, wide yorker ball, in swinging yorker ball, slower delivery etc.
Batting wicket keeper – Only wicketkeeper cannot make his career in cricket due to the extreme competition increasing day by day. You have seen the most successful Indian skipper Mahendra Singh Dhoni was a wicket keeper batsman, Dinesh Kartik is also a wicket keeper batsman and Rishabh pant from Uttarakhand as also a wicket keeper batsman.
How to become cricketer after 12th class
To become a cricketer after 12th class you have to to cross 3 huddles: district cricket, state cricket and domestic cricket. Let's understand these three hurdles or opportunities to become cricketer.
District level cricket – District level cricket is the first ever step towards a cricket career. If you want to become a cricketer then you have to participate in the district cricket trials first. There is a district cricket association in districts and these associations are responsible to organize the district level cricket trials every year. You must participate in these and the trial dates are published on the local newspaper of dainik jagran and amar ujala.
State cricket – After playing district cricket you can give trials for state level cricket. The players who have performed good in district cricket throughout the year are selected for state cricket. You are liking reading this cricket article very much, keep reading it till the end.
Domestic Cricket – After playing state level cricket player is selected for domestic level cricket or zone cricket. Ranji trophy, Irani trophy, Deodar trophy, Vijay Hazare trophy are some of the important domestic cricket. Player performs continuously in domestic cricket has been selected by selectors for under India 19 cricket tournament, Indian team. The IPL franchises also watches the domestic cricket through out the year very closely and they pick the player of there choice. Therefore it is necessary to keep performing throughout the year.
faq
How can I become a cricketer after 12th class?
You have to give district level trials first then you can give state level trials and performing continuosly in straight level you gets selected for domestic cricket like Ranji cricket. Once you start playing and performing continuously in domestic crickets like Ranji, Deodhar, Vijay Hazare etc there are high chances of getting selected in Under 19 team, Indian team, or IPL's by selectors and IPL franchises.
Which is the first tournament I have to play to become cricketer?
First you have to play district cricket then state cricket then domestic cricket and from domestic cricket you gets more opportunities to get selected in Indian team.
From where I will get district cricket trials form?
District cricket forms are distributed every year by district cricket association.
How to participate in district cricket trials?
To participate in district cricket you have to give district cricket trials. These trials are held every year near feb-march. Trials may occur some other time in some region so it is better to contact district cricket association of your region.
How to know about district cricket trial dates?
Dainik jagaran and Amar ujala use to publish the trial dates of district cricket every year. So please keep an eye on these news papers specially from jan to feb and march.
Hope you got your answer. Feel free to ask any query. You can also share this informative article with your friends.
Read More